Top ten reasons why you should consider Collegium Civitas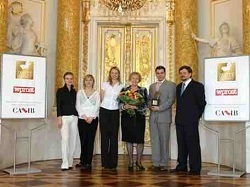 Highest Ranked University in Poland
Since 2000 Collegium Civitas has invariably occupied the first or second place in the academic and university rankings of the leading Polish magazines, newspapers or educational institutions, like "Wprost", "Polityka", "Rzeczpospolita" or "Wiarygodna Szkola" and "Uczelnia Liderów". In the fields of International Relations, Political Science and Sociology we are indisputably among the very best in the country!
In 2017 Collegium Civitas was amongst the leaders according to "Perspektywy" HEI ranking:
6th position among non-state Universities in Poland
3rd position amongst all Polish Higher Education Institutions in the category "internationalisation"
1st place in the category "International Relations" (amongst non-state Polish Universities)
1st place among non-state Universities in Poland in the category "Sociology".
Internatonial environment
In 2017 Collegium Civitas was rewarded 3rd position amongst all Polish Higher Education Institutions in the category of 'Internationalisation' – according to "Perspektywy" and "Gazeta Prawna" National Ranking.
Teaching Excellence and Accreditation
We draw the majority of our faculty from the Polish Academy of Sciences, the most advanced and prestigious research institution in the country. We hold a Certificate of Quality in Education from the Conference of Polish University Presidents. Twice our professors have received the President of Warsaw Award for Best Academic Teacher.
Collegium Civitas is proud of holding the Accreditation from the National Accreditation Commission and the Accreditation from the University Accreditation Commission at the Conference of Rectors of Polish Universities.
Small Class Size
Teaching excellence is not enough. Our faculty members are easily accessible and class sizes are small. No university can match our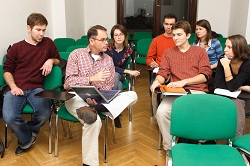 faculty to student ratio.
Caring Environment
Collegium Civitas is the least bureaucratized university at which you will ever study. Our progressive and helpful staff cares for the well-being of the university and its students.
Collegium Civitas has introduced Online Student Services which allow students to register, check their grades, express their opinions, find out about courses and lecturers, etc. through the Internet. The system of the Online Student Services has been praised by both students and the faculty.
Master Foreign Languages
Empik School, Poland's foremost language school, provides Collegium Civitas students with foreign language instruction. International students are also offered Polish as a foreign language.
International Connections
A far higher than average proportion of our students take advantage of international student exchange programs. Collegium Civitas is part of the European Credit Transfer System which enhances student mobility throughout the European Union. Students also benefit from personal contacts with international students studying at the university. Representatives of 50 countries are enrolled on the university's undergraduate and graduate programs.
Ideal Location
The university is situated in the centre of Warsaw, in the landmark Palace of Culture and Science. Many of Warsaw's attractions are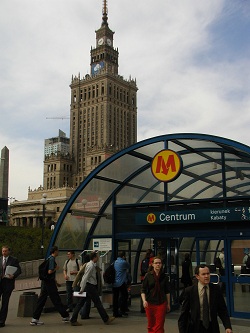 within easy walking distance, as are transport connections. The site contains most of the provisions for a comfortable life, from banks and post-offices to restaurants and bars.
The Final Frontier
Collegium Civitas focuses on the European Union enlargement, the transition to a market economy and democracy, globalization, strategic analysis, political communication and political leadership. No future social scientist, business person, analyst or policy-maker is sufficiently equipped without an intimate knowledge of the logic and history of these processes and issues.
Low Cost of Living and Affordable Tuition
Warsaw is still a remarkably inexpensive city in which to live. A taxi ride from the airport to the centre is about 7 EUR. A room in a good hotel can be had for 50 EUR. A studio apartment can be rented for 400 EUR per month. A lunch in a restaurant costs 6 EUR. A movie ticket is priced at 5 EUR. A beer in a pub sells for 2 EUR. A bouquet of 5 roses can be purchased for 3 EUR. Tuition fees are also extremely reasonable. Enjoy it while it lasts!
Excellent Career Opportunities
The intellectually rigorous nature of our study programs enables students to face the competitive job market with confidence. Our well-traveled and English-speaking graduates are an asset to any public or private sector employer. Also, the BA Programs at Collegium Civitas may be used as a springboard for further studies in the UK, the US, Canada or other English-speaking countries.
Collegium Civitas Career Center does its best to provide students with professional support to help start and develop their careers:
individual consultations with career advisers and counsellors
numerous internships in Poland and abroad
meetings with employers and alumni
interactive recruitment service
Student Hall of Residence
Our university provides its students with the opportunity to rent a room in modern and cozy student houses.