The Center for Research on Social and Economic Risks Collegium Civitas invites you to a seminar
"Public attitudes towards the death penalty"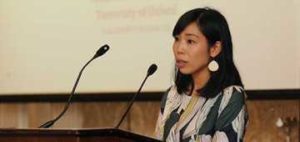 which will take place in October 19, 2018, at 18.00-19.30 in room 1222 (XII floor, PKiN)
The meeting will be about the current practice of the use of the death penalty in the world and the "public instability" in this matter. Dr. Mai Sato will tell you more about the support for the death penalty and how (un)stable and (un)decisive this attitude is. The statements will be supported by the results of empirical research that she conducted in Japan.
The event will be accompanied by the screening of The Wavering Public? The Death Penalty, Justice and Public Opinion
Seminar is conducted in English.
Mai Sato is Associate Professor at the School of Law, University of Reading, in the United Kingdom. She holds a PhD from the School of Law, King's College London. Her monograph The Death Penalty in Japan: Will the Public Tolerate Abolition? (Springer, 2014) received the Young Criminologist Award 2014 from the Japanese Association of Sociological Criminology. She is also the author of the report The Public Opinion Myth: Why Japan Retains the Death Penalty (2015, with Paul Bacon), and 12 Years Without an Execution: Is Zimbabwe Ready for Abolition? (2017).
Her university website can be accessed from: https://www.reading.ac.uk/law/about/staff/m-sato.aspx