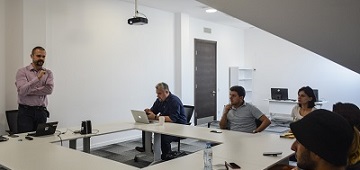 Between 18th and 22nd of June the Vice-Rector for Academic Affairs Dr Roland Zarzycki visited the Caucasus University in Tbilisi. In Georgia Dr Zarzycki held a series of lectures and met with the leadership of the university.
In line with the strategy of Collegium Civitas to further enhance the academic exchange and strengthen the international cooperation, Dr Roland Zarzycki gave a series of lectures at the Caucasus University in Tbilisi, Georgia. The topics of the lectures included the relations between Georgia and the European Union in economy, culture and politics.
Dr Zarzycki has also met with the Dean of Caucasus School of Governance, Dr Eka Akobia and the Dean of the Caucasus School of Humanities and Social Sciences, Mr. Davit Natroshvili. During the meeting both parties had the opportunity to discuss the existing bilateral exchange programmes and explore the future prospects of extending the scope of current cooperation.
The visit was organised within the framework of the Erasmus+ programme.