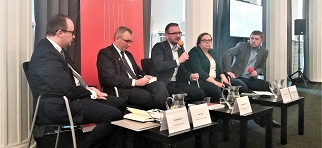 What are the most important factors that have contributed to the image of Ukraine and Ukrainians among Polish Internet users? Could it be the difficult history of Wołyń, or competition on the labour market? Research conducted by Marek Troszyński, PhD, attempts to shed light on this issue. A sociologist at Collegium Civitas, Troszyński, has investigated the areas that shape the discussion and social climate around Poland's largest national minority.
On 28 March 2018 during a conference organized by the Office of the Commissioner for Human Rights, Marek Troszyński presented the main conclusions of his study related to the image of Ukraine and Ukrainians on the Polish Internet. In the period from December 2016 to November 2017, the researcher analyzed over 1.2 million comments which were found on Polish social media: Facebook, Twitter, and other internet forums.
65% of statements contained neutral or positive statements referring to Ukraine and its citizens residing in Poland. The authors of the posts describe Ukrainians as "normal people", neighbours who migrate to Poland, and as individuals who work and integrate with Polish society. Sport (especially football and tennis) is the area where the most positive opinions and opinions about the Ukrainian national minority were identified.
However, 35% of statements had a moderately or strongly negative connotation. Most of these types of posts related to the "history" category. Almost half of the comments on events and historical references had a hostile, pejorative tone. According to Dr Troszyński, this is disturbing, because in the analysis of Internet discourse, the number of negative statements usually does not exceed 15-20%.
Troszyński also referred to the latest results of surveys published by the Public Opinion Research Center CBOS, which clearly indicate an increasing number of negative opinions referring to the Ukrainian minority. The Commissioner for Human Rights drew attention to the need to develop social dialogue and counteract hate speech that deepens social divisions.