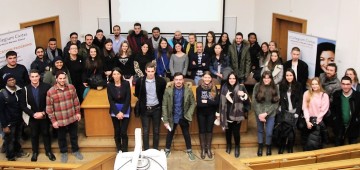 Collegium Civitas focuses on the international outlook and multicultural atmosphere of studying!
Over 60 young people from different parts of the globe have just started their studies. Our new students come from  such countries as Turkey, Portugal, France, USA, Kazakhstan, Kyrgyzstan, Spain, Belgium, Mexico, Canada, the Philippines, the US, India, Ukraine Iraq, Argentina, Morocco, United Kingdom, Belarus, Uzbekistan, Ukraine, Egypt, Russia and Bangladesh.
On February 26th an orientation meeting was held for our exchange and English-language students who has just started their first semester.
The students were greeted by the President of the University Prof. Jadwiga Koralewicz, the Vice-Rector for Student Affairs Dr. Anna Siwek and the Vice-Rector for International Relations Dr. Katarzyna Maniszewska.
Fellow students presented the activities of students organizations and associations inviting the newcomers to take part in a variety of projects. Opportunities within the Erasmus+ programme as well as the CC career center were also discussed.
We wish all our students good luck for the new semester and we hope you will enjoy your time in Warsaw!