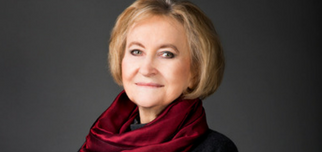 On February 8, 2018 Professor Dr. Hab. Jadwiga Koralewicz, President of Collegium Civitas was appointed a Member of the Polish General Council of Science and Higher Education.
In the congratulatory letter of Prof. Dr. hab. Zbigniew Marciniak, chairman of the General Council wrote:
Mrs. Professor, please accept my warmest congratulations on your election to the General Council for Science and Higher Education of the twelfth term. I am fully aware that this choice, made among many other excellent candidates, is the expression of the highest recognition and trust from the community which nominated you to the Council.
ACADEMIC BIOGRAPHY OF PROF. DR. HAB. JADWIGA KORALEWICZ
Sociologist, president of Collegium Civitas, co-founder and first rector of Collegium Civitas (1997-2006), professor emeritus of the Institute of Political Studies of the Polish Academy of Sciences (PAN). From 1983 a lecturer at the Theater Academy (formerly PWST) in Warsaw at the Department of Drama Directing. Co-founder and first president of the Polish Political Studies Society (1991-1993). Member of the Scientific Council of the Copenhagen Center for Peace Research (1993-1999). Scholarship holder of the University of California, Berkeley (1977-1978), Nuffield College, Oxford (1985), CNRS (Paris) (1990-1991), Uppsala University (1994-1995). Guest lecturer at Columbia University – NY, Lund University, Carleton University – Ottawa, University of Copenhagen, University of Tuebingen, European University Institute – Florence and University of Scranton, USA. Coordinator and participant in international research projects: European Value Survey, Beliefs in Government – Programme of European Science Foundation, Identifying the Basis of Party Competition in Eastern Europe coordinated by Nuffield College (Oxford), European Programme COST A24 – Evolving Social Construction of Threats and many other.