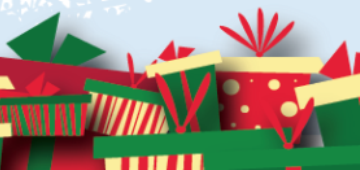 On December 19-21, we invite the entire Collegium Civitas community to a series of Christmas events.
A variety of prizes, presents, refreshments and tons of fun are waiting for you and your friends!
We believe that at this special time everyone will gather together and warm Christmas atmosphere will solidify our bonds and mutual kindness.
The event is organized by Collegium Civitas student organizations with support of the Career Center.
19 December
Time: 4:30 pm
Place: room 1222
Christmas Quiz with attractive prizes
Do not wait for the gift to fall from the sky, get it yourself, answer simple questions and spend your time gleefully with the CC family! We have prepared the Quiz on Christmas and New Year Traditions.
Charity Christmas Film Show
When a doubting young boy takes an extraordinary train ride to the North Pole, he embarks on a journey of self-discovery that shows him that the wonder of life never fades for those who believe.Join us with your friends on a magical ride that is as exhilarating as it is enlightening.The CC Family welcomes you on a memorable experience with our charity premiere of "The Polar Express" with a lecture by Dr. Katarzyna Maniszewska.

Popcorn. Good company. Great fun!  Guaranteed only for PLN 3 *!

Book a ticket by sending an email to: grazyna.mrozowska@civitas.edu.pl

Tickets will be available for purchase before entering the room.

*Funds obtained from the sale of tickets will be transferred to the Hospice of St. Krzysztof.
Please, remember to get prepared for:
CC Christmas Lottery
Have you been naughty this year? Don't worry!!!
On December 21th while Christmas Eve Meeting we invite you to participate in the CC Christmas Lottery, where NOBODY has the right to leave empty handed.
Buy a gift for around 20-30 PLN, get it packed and come to Santa Claus.
We are waiting for you, guys and girls!
20 December
Time: 11-2 pm
Place: Common Room near Aula C
Charity Action – Hand-made cards and holiday memorabilia
Table-Football Tournament
Board games
21 December
Time: 11:00 – 11:45 am
Place: near golden elevators at 12th floor
Christmas Eve Meeting
Christmas dishes from different cultures
CC Christmas Lottery
Photo competition : #ChristmasCollegiumCivitas with Santa Claus
DOWNLOAD