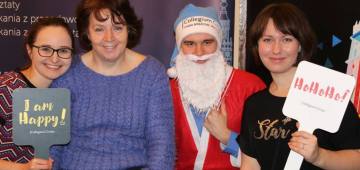 On December 16-21, before we went to our homes, to the Loved Ones and Friends, a festive atmosphere prevailed at Collegium Civitas. There were presents, delicacies, the smell of cinnamon and cloves, joint preparation of Christmas decorations and a lot of joy.
Students and employees took part in the quiz with prizes. The questions were really difficult, but by the way you could find out, among others in what country of Santa comes as a shepherd in a fox hat and with a whip in his hand *; what is considered the best gift in Japan for the New Year (choice: rake, bag with rice, lantern, fan) ** and in what country was the tradition of decorating a Christmas tree born***. The movie "Polar Express" was displayed, the income from which was donated to support the oncological hospice of Saint. Christopher. There was also a Christmas lottery, hand-made cards and Christmas gifts, table football tournament, board games, photos with Santa, as well as a real Christmas feast, during which you could taste regional dishes from different parts of the world from which our students come.
In accordance with the expectations of the organizers – student organizations and the CC Career Center – at this special time we all gathered together, and the Christmas atmosphere of warmth and peace that established our heartfelt bonds and mutual kindness.
—————–
Answers to questions from the quiz
* New Year in Mongolia is celebrated together with the holiday of animal husbandry, that's why Santa (Uwlin Uwgum) look like a shepherd there.
** In Japan, rakes are considered the best of the New Year's Talismans. The Japanese believe that they must necessarily have a rake to gather as much happiness in the new year as they can.
*** The tradition of Christmas trees was born in Alsace (Germany). The trees were dressed with paper ornaments and apples (a reference to the paradise tree).