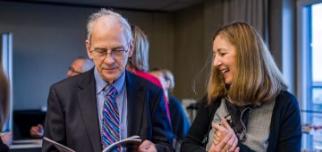 On November 20, 2017, the "Super M" conference was held with the participation of distinguished guests. Prof. D. Clutterbuck and Barbara Bassa. The strategic partner of the event was Collegium Civitas.
The conference of the mentoring experts went smoothly in line with the content plan. It provided a unique opportunity to meet with top mentoring specialists in Poland and in the world. A special guest was Prof. David Clutterbuck, mentoring guru and tireless promoter, co-founder and ambassador of the European Mentoring and Coaching Council (EMCC).
During the conference, mentoring was presented as a universal tool for personal and organizational development in macro and micro scale, in corporations and in family business, in business and in art. Also discussed how to ensure the success of mentoring. Focused on the process of mentor preparation and mentee motivation.
The moderator of the event was Dorota Warakomska.
We thank EMCC Poland for photos