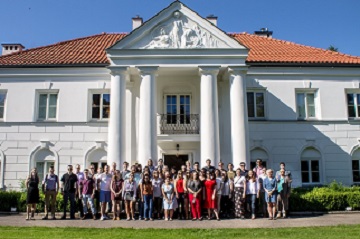 Between end of May and the beginning of August the Summer School program is being held at Collegium Civitas. This year our university has hosted over 60 students from the U.S. for six thematic courses devoted to security, criminology, cybersecurity, history and cultural diversity. 
Our Summer School students come from various American universities, among them: the University of Texas, Loyola, Stetson, University of Wisconsin-Milwaukee, Georgetown University, Penn State, University of Montana, Michigan State University, George Washington University, University of South Carolina, University of Denver, University of Arkansas, Lewis & Clark College, University of Louisville, University of Nebraska Lincoln, Union College. This summer our university has also been visited by a group of students from South Alabama University for lectures on the fall of communism and the role of  Solidarity.
The courses held for the American students at Collegium Civitas were led by academics and practitioners with outstanding career records. Students had a chance to discuss ideas, raise important questions and had networking opportunities.
The students had also the unique opportunity to meet with witnesses to history. It was a great honor to welcome to Collegium Civitas Mr. Marian Turski, a Holocaust survivor and long-time journalist for Polityka weekly and Mrs. Stanisława Roztropowicz – one of the Righteous Among the Nations.
Mr. Marian Turski
Mrs. Stanisława Roztropowicz
The framework of the summer school schedules was structured in a way which would allow students to immerse themselves into Polish culture with pre-organised visits to museums, institutes, concerts, as well as carefully planned educational travel to Cracow. In addition, the participants visited Berlin where they learned more about the history of the Cold War.



The Summer School courses have already finished, and most of the participants are already back to the U.S. However, 11 students stayed in Warsaw for internship programs – at the Warsaw Uprising Museum, Jewish History Institute and the Terrorism Research Center at Collegium Civitas. The internship program ends on August, 3 and on August, 1 the students will have the chance to participate in the commemoration of the 74th anniversary of the Warsaw Uprising.