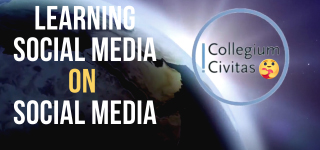 Collegium Civitas' Social Media Management & Digital Commerce program offers students 14 courses essential to successfully working in today's Marketing, Communications, Web and Mobile Technology arenas. This New Media specialization is the only one of its kind in Poland's dynamic capital of Warsaw and the only one taught in English throughout all of Central & Eastern Europe. Take a look at the spring semester 2019/2020 in a behind the scenes video:
We all know, there is no elevator to a successful education. You have to take the stairs. Collegium Civitas' Social Media Management & Digital Commerce Specialization students started this semester with an impromptu stair-climbing race with plenty of obstacles and little preparation to meet the dynamic challenges.
When Covid-19 hit we took our collaboratively structured classroom completely online. Sure there were some challenges and trips like running up a non-working escalator. Some students lacked hardware and devices, or experience with technical tools, then there were the challenges of finding and using free software to satisfy the course plans. But the instructors' and students' determination and hard work made it a success. We welcome you to a behind-the-scenes look at how we jumped headfirst into uncharted waters during the Spring/Summer 2020 semester and came out on top – Covid-19 didn't stop this crew's quest to train. Nineteen countries closely collaborated together in a virtual space sharing unique perspectives, cultural insights, and diverse skill sets to develop their professional digital footprint on social media platforms.
The aim: create a professional online presence and digital portfolio of their accomplished skills to share with potential employers while benefiting from the incomparable hands-on learning opportunities and invaluable personal and professional networking assets. Interested in working in Social Media? You can check out more here www.civitas.edu.pl/en/academic-offer/social-media-management-and-digital-commerce-ma-full-time-english