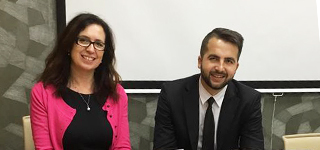 Collegium Civitas staff, Dr Kerry Longhurst and Mr Mihai Mogildea, continue to work on their NCN-funded project 'Domestic Barriers to Moldova's Europeanisation'.
This winter they conducted fieldwork in Chisinau with local stakeholders, International Organisations and NGOs, including the Ministry of Economics, EU Delegation, The World Bank and Business Organisations. The project has found that whilst Moldova is progressing towards a deeper form of association with the European Union, considerable obstacles remain. Whilst trade with the EU steadily increases, many small businesses remain ill-prepared to take advantage of new opportunities and are held back by a lack of finance, availability of trained staff and sometimes the know-how to help them modernize.
Furthermore, foreign companies are cautious about entering the domestic market, which means that foreign direct investment is not yet playing a considerable role in building-up the Moldovan economy and in turn, the country's socio-economic development and 'resilience'. At the root of the problem, the research team confirms, lies corruption, which in Moldova is entrenched and persists on multiple levels to the degree that the state is 'captured' by oligarchs and their vested interests.
The symptoms of Moldova's 'state capture' are well-known and include the manipulation of electoral laws, 'disappearance' of public funds, manipulation of the judicial system and wide-scale intimidation and bribery, all of which thwart the country's transition, sustainable development and ultimately its deeper association with the European Union. Results of the project have already been presented and the research team will continue its work throughout 2019.