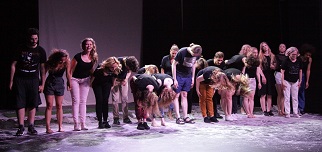 The premiere of the new play by Collegium Civitas Theatre took place on 14 June 2019. The performance entitled "One Minute.2019" directed by Agnieszka Korytkowska was jointly performed by students of Collegium Civitas and the Academy of Fine Arts (ASP). The premiere coincided with the start of Open Academy 2019, an exhibition summarizing the past academic year at the ASP.
The performance of "One Minute.2019" is the result of many weeks of collaboration between the students of Collegium Civitas and the ASP under the guidance of Dr Agnieszka Korytkowska and the composer Ula Kisiel-Pańko. As the director said: This was a meeting of people from a dozen or so countries and cultures (Belarus, China, France, India, Kazakhstan, Kenya, Nepal, Poland, Russia, Turkey, Ukraine, Venezuela).
They thought about a common message of our civilization that could be sent into space. The show and the introductory exhibition accompanying it were inspired by a review of a non-existent book.
The famed science fiction writer Stanisław Lem once wrote that if a book describing a minute in the life of humanity was created, its author would certainly get the Nobel Prize. Nick Montfort took up this challenge and, with the help of the programming language Python, wrote a book entitled World Clock. While he has still not won the Nobel Prize, he has nonetheless inspired students to ask questions about universal values.
Photos courtesy of the ASP. Photographer: K. Błesznowska-Korniłowicz