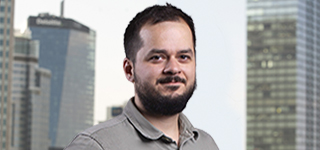 We are happy to announce that the Rector of Collegium Civitas has appointed Paweł Maranowski as the Vice-Rector for Student Affairs.
Paweł Maranowski is the first graduate of the Bachelor's and Master's degree studies at Collegium Civitas, who became a vice-rector. He has been associated with our University for many years as a lecturer and as a researcher in the Collegium Civitas Analysis Centre.
Congratulations and good luck!
The previous Vice-Rector for Student Affairs was Anna Siwek, PhD. We thank you  for the last 4 years of work, efforts and contribution to academic life and students' activities. From the 1st of January 2019,  Anna Siwek, PhD will act as a disciplinary commissioner for students.