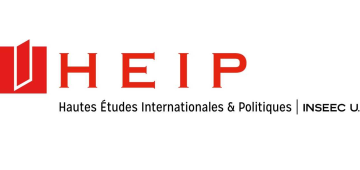 Collegium Civitas (CC) has partnered with Ecole des Hautes Etudes Internationales- Ecole des Hautes Etudes Politiques (HEIP), Paris, France to offer new exchange opportunities for our students.
On March, 1 the Academic Exchange Agreement between Ecole des Hautes Etudes Internationales- Ecole des Hautes Etudes Politiques (HEIP), Paris, France and Collegium Civitas was signed. Both institutions will offer opportunities for their students to enroll in the study programmes as exchange students.
The maximum stay of students at the host institution are two semesters, and the minimum stay is 4 weeks.
The 4 weeks option is available for Collegium Civitas students within the framework of HEIP summer school "Doing Diplomacy in Europe" (language of instruction is English). CC students will be allowed to participate in HEIP summer programs (4 weeks in July) as exchange students with waived tuition fees. The Summer School programme is available for graduate students (master's degree students).
The one and two semester exchange option at HEIP is foreseen for undergraduates (bachelor's degree students) with French as language of instruction and for graduates (master's degree students) with English as language of instruction.
HEIP students will be offered the opportunity to study for one or two semesters at Collegium Civitas (English language bachelor's and master's programmes).
HEIP- Écoles des Hautes Études Internationales & Politiques- was created in 1899. While studying at HEIP, students gain access to a comprehensive approach to International Relations with an education that includes the 5 essential components of a comprehensive training: geopolitical, legal, economic, social and historical aspects. From general first-year knowledge to specialized courses at the end of the course, the training makes it possible to break down the complexity of the world. High-level faculty composed of lawyers, economists, geographers, demographers, historians as well as well-known personalities from the world of academia, diplomacy and the military.
Students seeking admission to the HEIP-CC exchange programme must meet the admission requirements for exchange students of the host institution, as well as the following requirements:
Be registered students in a degree program at their home institution and pay tuition; fees to the home institution for the period of their study at the host institution;
Be in advanced standing at their home institution;
Have a good academic record; and
Meet all requirements set down by the host and home institutions.
Students from Poland who are spending minimum one semester in France are entitled to a scholarship by French government (up to 150 Euro monthly).
More information about the Summer School "Doing Diplomacy in Europe": http://summer.pariseiffel.fr/pdf/EBS_CampusEiffel_SummerSchool_DoingBusinessinEurope-2018.pdf
More information about HEIP: www.heip.fr
Collegium Civitas Students interested in participating in the exchange opportunities with HEIP are kindly requested to contact Ms. Anita Potrząsaj, International Relations Office at: Anita.Potrzasaj@civitas.edu.pl. Please, kindly note that the number of placements is limited.