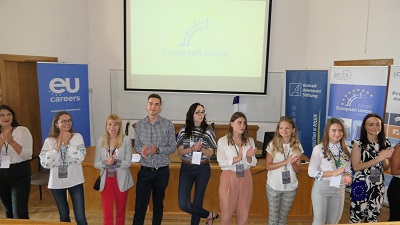 Between 24-27 of August, Collegium Civitas had a pleasure to host the 5th edition of the Model European Union (MEU) Warsaw. The grand opening was made by Sofiia Shevchuk, general director of MEU Warsaw who welcomed participants from Spain, Singapore, Germany, Philippines, Bulgaria, Poland, Albania, Mauritania, Kosovo, Moldova, France, Slovakia, Greece, Denmark, Portugal, Italy, Belgium, Ukraine, Romania, Serbia, Finland, United Kingdom, Egypt, Georgia and Turkey.

MEU Warsaw is a simulation of the legislative processes of the European Union. Participants took on the roles of euro-deputies, national ministers in the EU Council and journalists. They get the opportunity to experience the way of how representative democracy works in the EU. Parliamentarians have to find a balance between the interests of their home country and their respective party, while members of the Council must build alliances and journalists have to tackle everything that is concerned with the release of a newspaper and learn about the role of the media in general.
MEU Warsaw is organised by Stowarzyszenie BETA Polska.