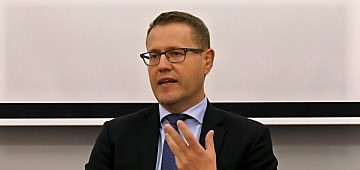 On Wednesday, October 18 at Collegium Civitas, Australian Ambassador in Poland HE Paul Wojciechowski, came to an English speaking forum, "Underestimated Australia – the emerging power in the Far East?". A meeting organized by the Association of Young Diplomats Forum under the patronage of Collegium Civitas.
The main purpose of the discussion on Australia was to try to answer the question of what are the directions and ways of conducting foreign policy in Australia and what position it occupies in the state of international relations.
Much attention has been paid to the economic relations of Australia with the Asian countries. The Ambassador noted that the country's economy is expanding largely thanks to exports to Asia and only further tightening of co-operation with its northern neighbors can guarantee Australia's continued good economic performance.
HE Paul Wojciechowski emphasized Australia's commitment to building free trade zones in the region, and noted that despite its desire to strengthen its economic relations with the European Union, its priority was to conclude an agreement on a free trade area with the United Kingdom.
In addition, the Ambassador expressed his hope for maintaining close relations with the United States as Australia's natural partner for cultural, military and geographical reasons. The participants also had the opportunity to learn that Barack Obama's many reforms were inspired by Australian solutions, which is proof of the flow of ideas between the two countries.
During the discussion, the issue of Australian migration policy was also raised, which is based on the stabilization of the migration flow and a careful study of the motivation of individuals. Wojciechowski emphasized that nearly 30% of Australians were born outside of the country, which is one of the reasons for the country's openness to foreigners.
Thanks to the wonderful natural conditions and the high living standards of the people, the South of Australia attracts people from all over the world, and the "Australian lifestyle" can be considered as a landmark of this country. Most of the immigrants come from Asia, mainly from the Middle Kingdom. On this occasion, a new phenomenon of expansion of Chinese soft power, influenced in Australia by Chinese students and immigrants and their descendants, was highlighted.
In the course of the discussion, its participants came to the conclusion that China is an important partner of Australia, with which close relations are to be developed, but that balance must be maintained in the region. Starting from this assumption, Australia supports the Russian project to create a fast rail link between Tokyo and London as a healthy competition for the Chinese new Silk Road.
The meeting was moderated by the members of the Forum of Young Diplomats: Ewelina Piskorz and Marcel Lesik, inviting guests to participate in the next events prepared on the occasion of the All-Polish Diplomatic Week.