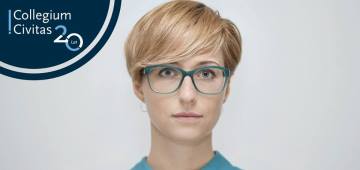 We are proud to announce that Katarzyna A. Przybyła, our lecturer and Collegium Civitas expert on international relations, specializing in political analysis, conflict and peace research, has received the Marshall Memorial Fellowship, awarded by the German Marshall Fund of the United States, one of the best American think tanks.
We congratulate Ms. Katarzyna!
The Marshall Memorial Fellowship is the flag leadership development program of the German Marshall Fund of the United States. The purpose of the program is to prepare the leaders on both sides of the Atlantic for transatlantic cooperation. Every year about 70 people from the USA and Europe are given the opportunity to participate in a program that lasts for half a year, with a final 24-day trip abroad (Europeans fly to the US, Americans to Europe) where participants visit political analytical and social institutions also meet with eminent representatives from various fields such us business, science, politics and civic organizations. This year the Fellowship received 68 people (41 from Europe and 27 from the United States, including only two from Poland).
More details: http://www.gmfus.org/initiatives/current-fellows