Marius Gudonis from Collegium Civitas has been decorated by the World Association of Home Army Soldiers (ŚZŻAK)
02.01.2017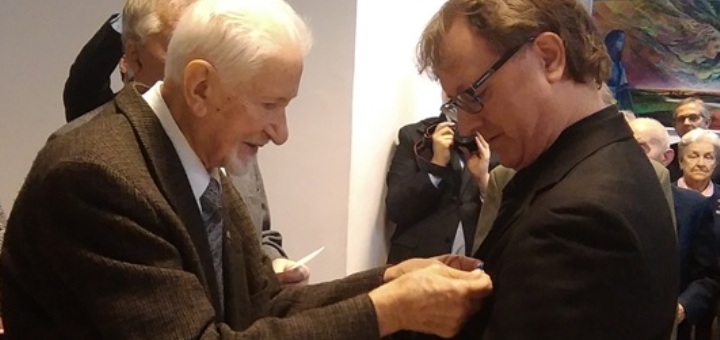 On 19 December 2016 Collegium Civitas lecturer Marius Gudonis received a medal for "Services to the World Association of Home Army Soldiers" in Warsaw's historic PAST building. The distinction was awarded for his English-language voice-over, used in the creation of an innovative location-based game in cooperation with Warsaw's Municipal Transport Authority (ZTM).
Amongst the guests attending the ceremony was the rector of Collegium Civitas, Prof. Stanislaw Mocek, who warmly congratulated the ŚZŻAK laureate. The distinction was attributed in recognition of his contribution towards the creation of the Patriotic Communication Game. He provided the voice-over in English that accompanies QR codes in diverse locations around the capital that commemorate major wartime events. Participants play the game by travelling to these sites on public transport, scanning the relevant QR codes and answering questions about the Home Army's insurgency against the occupier. The ceremony took place on 15 December 2016, following the successful completion of the game's first edition, and the second edition is now underway.
Marius Gudonis, sociologist and doctoral researcher at Collegium Civitas, specializes in contemporary Ashkenazi and Polish history, as well as the sociology of anti-pluralist movements. His publications include "Particularizing the Universal: New Polish Jewish Identities and a New Framework of Analysis" (New Jewish Identities, CEU Press, 2003) and "Constructing Jewish Identity in Post-Communist Poland", EEJA, 2001). In addition to his academic pursuits, he has, amongst others, worked as a UNESCO project manager for the Management of Social Transformations programme, a TEFL/ESP language instructor at Paris Descartes University, and a history communications consultant for the Warsaw Rising Museum. A speaker of English, French, Polish and Spanish, his latest work has been the translation of the late Władysław Bartoszewski's O Żegocie: relacja poufna sprzed pół wieku (Żegota: A Confidential Report from Half a Century Ago).
We offer our hearty congratulations to Marius Gudonis and wish all game participants a rewarding experience in their discovery of Home Army places of remembrance.
Photorelation from the www.armiakrajowa.org.pl:
pict. S. K
pict. ZTM