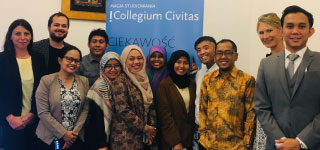 On September 3 Collegium Civitas hosted a meeting with Indonesian journalists and students from Indonesia.
Our university was visited by Gaswara Utama from the daily newspaper "Kompas" (https://www.kompas.com); Rahayuningish from Bisnis Indonesia (https://www.bisnis.com); Erza S.T., "iD Indonesia Design" (http://www.indonesiadesign.com) and Lukas Tambunan from the Polish Embassy in Jakarta.
The students who participated in the meeting study at Collegium Civitas and Vistula University. They are all holders of scholarships funded by the Governor of the West Nusa Tenggara Province. "Warsaw feels like our second home" – the Indonesian students told the journalists.
The visit to Poland of Indonesian journalists was organized with the help of the Embassy of Poland, Jakarta.