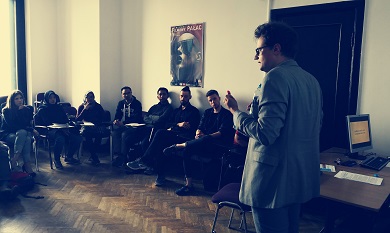 On May 24th, at the invitation of Katarzyna A. Przybyła, supervisor of International Peace and Conflict Studies (IPACS), Miłosz J. Zieliński visited students at Collegium Civitas to talk about the Baltic Sea Region.
Miłosz J. Zieliński holds a PhD in Cultural Studies, and currently serve as a Vice-Consul at the Consulate General of Poland in Kaliningrad.
During his meeting with the students, he talked about the importance of culture, languages and symbols is state- and peacebuilding activities, cooperation and dialogue initiatives in the Baltic Region, and security dilemmas there.
The meeting was very interactive, and the discussion did not end with the end of the class.
Thanks for visiting us – we really appreciate such meetings!