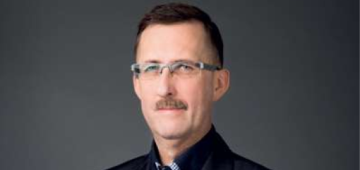 In the latest issue of The Ukrainian Week "Tyzhden" you can read the interview with prof. Stanisław Mocek, Rector of Collegium Civitas.
MORE THAN A UNIVERSITY – COLLEGIUM CIVITAS, WARSAW, POLAND
Interview with the Rector, Prof. Stanisław Mocek
Professor Mocek, you are the rector of  Collegium Civitas in Warsaw, one of the best private universities in Poland. How does one achieve such a high standard in just 20 years?
Stanisław Mocek: Yes, this year we are celebrating the university's 20th anniversary—it was founded in 1997. Above all, I would like to emphasize the fact that this university functions under the auspices of the Polish Academy of Sciences (PAN), the most important scientific institution in the country. However, PAN only educates doctoral students and those doing postgraduate diploma courses. It cannot create BA and MA degree programmes. Collegium Civitas came about as a result of the educational initiative of the PAN Institutes of Political Studies. Three years after its founding, four other PAN institutes joined Collegium Civitas: The Institute of Philosophy and Sociology, the Institute of History, the Institute of Slavic Studies, and the Institute of History of Art.
The Collegium's profile is shaped by its unique blend of the social and political sciences in which the humanities play a special role. Eminent professors from all five PAN institutes have been lectured here. As the  Collegium developed, we started recruiting lots of other specialists, especially skilled practitioners: diplomats, journalists, business managers and civil servants.  Let me give you a few examples. We have a couple dozen former ambassadors who have represented independent post-1989 Poland abroad, in Japan, India, Canada, Greece, Israel, Egypt and many other countries. We also have teachers, who have served ministerial roles under a variety of governments. These include former ministers of Science and Higher Education, Administration and Digitization, as well as former deputy ministers from the Ministry of Foreign Affairs. Our faculty also includes the former president of Poland, Bronisław Komorowski, as well as the chair of the supervisory board of the Warsaw Stock Exchange. Renowned journalists teach here from, amongst others, Polityka, the best and oldest current affairs weekly. We have had the editor-in-chief of the business monthly Forbes-Poland, a journalist writing for the New York Times, and journalists from the best and most watched private television channel TVN, as well as well-known radio channels. We have lecturers associated with well-known international NGOs such as Amnesty International and the Helsinki Foundation for Human Rights.
Since 1990 about 400 new higher education establishments were created in Poland. As a result, we faced enormous competition, but in 2001, only three years after Collegium Civitas was founded, we received the "Złoty Indeks" [Golden Record] first place in the weekly Wprost higher education ranking, in the category of non-business private universities. Our sociology and political science degree programmes have been recognized as the best in the country (amongst private universities). We managed to repeat this success 6 years in a row. While this ranking no longer exists, I am happy to say that this year, in 2017, out of all Polish universities, we have come first in sociology, international relations and political science according to one of the most prestigious higher education rankings in Poland, published by the monthly Perspektywy.
Even if the faculty is a necessary factor for such success, it is surely not a sufficient one.
SM: You are right. It is a start, but it is important to note that no other university in Poland functions under the aegis of 5 institutes from the Polish Academy of Sciences. I would like to emphasize this point because this proves not only the high level of teaching we are able to offer, but also the overall scientific pedigree that guides our work.
When founding Collegium Civitas, we agreed on the institution's ethos, programme and structure, principles to which we have remained faithful ever since.  Collegium Civitas is a higher education institution that is based on certain fundamental values, which have been present here throughout its development.
During the 20th inauguration of the academic year, in October 2016, Prof. Jadwiga Koralewicz—who co-founded this university along with Prof. Wojciech Roszkowski, Prof. Edmund Wnuk-Lipiński and Prof. Zbigniew Stawrowski—read out a fragment from her first inauguration speech containing the university's mission statement. Let me quote it for you: "We assume people will study in our Collegium who hold diverse outlooks on life. The only ones that we dislike are those that impinge on another person's dignity and freedom. …We would like our students, and later our graduates, not only to shape their own destiny, but also to uphold a sense of responsibility for the community in which they work and live in. They should be able to build lasting relationships that include people who are different from them in a spirit of mutual respect. The notion of friendship should be meaningful to them. (See J. Koralewicz, Można [We Can], Collegium Civitas Press, 2012, p.19) This is what our first rector, Prof. Jadwiga Koralewicz, said in 1997. Today, nobody can doubt that we have successfully implemented this vision. This is why we consider that Collegium Civitas is more than a university. It is about basic civil values.
I have been involved in the running of this university since 1998—first as vice rector and then, since 2012, as rector—and throughout this period I have tried to stay true to these values.
A lot of foreign students also study at Collegium Civitas—how does this play out in practice?
SM: We already introduced English-language MA programmes as far back as 2000, a few years earlier than the University of Warsaw. Currently about 70% of our Polish-language programmes have English-language equivalents. In the Perspektywy ranking that I mentioned earlier, Collegium Civitas came third in the category of internationalisation out of all Polish universities (i.e. both state and private). To contextualize this, may I add that the University of Warsaw came 8th and the Jagiellonian University in Kraków came 11th. We have students from 50 countries from all over the world. As of this academic year we will be educating students who have enrolled in a programme to earn  two diplomas—Polish and English—and they will study in Warsaw (Collegium Civitas University) and Cambridge (Anglia Ruskin University). Our students, including those from abroad, can spend one or two semesters in any one of over 70 universities, not only in Europe, but also beyond, such as Taiwan, South Korea and the USA. Foreign students pay the same fees as Polish students.
Does your Collegium also have students from Ukraine?
SM: Yes, we have a lot of students from Ukraine and they are very good students. We also have Ukrainian students studying in Polish, who simultaneously take Polish-language lessons, so they may improve their grasp of the language. Many Ukrainian students also enrol in English-language degree programmes. For the upcoming 2017/18 academic year, we have started preparatory language courses for those studying in Polish as well as English. Such courses can last from one month to one academic year. This means that a student who is not familiar with Polish can prepare for studies in that language—and the same applies to English. These courses allow the student to earn a certificate of language competence that is necessary for a university education. I would like to add here that first-year foreign students are under the care of special mentor, that are sometimes know as "angels" in Western universities.   Furthermore, before the beginning of the academic year, all students participate in a "adaptation" course that helps them prepare for their studies and adapt to life in Warsaw, as well as to life in Poland more generally. As a result, they are well-prepared to undertake studies in a new environment. Warsaw is a safe city—and that includes evenings. It is an academic city with several dozen universities, both state and private. It is easy to make acquaintances with other young people of similar interests. And I would just like to make this last point about the advantages for foreign students with the fact that Collegium Civitas University is located in the very centre of Warsaw, in our capital's most famous building, the Palace of Culture and Science, which is easily accessible by all modes of transport, no matter where you live. The Collegium helps you rent accommodation, be it a dorm room or an apartment.
Does the university offer scholarships—and if so, are these open to foreign students too?
SM: Yes, we have many different types of scholarships. And, in particular, I would like to mention our latest scholarships, which come from European Union funds,  and are available as of this academic year 2017/18. These scholarships are for candidates studying for English-language degrees in European Studies (BA), User Experience Design (BA) or Criminal Justice (MA). These scholarships are very generous and are awarded to help cover the costs of living—they are almost equal to the value of tuition fees.
Is the university working to establish new forms of international cooperation?
SM: Yes, we are going through a period of intense changes and new initiatives. We are creating joint degrees with other foreign universities including the USA, former Soviet republics and countries in Asia. These are relatively new initiatives, which our new Vice Rector for International Cooperation, Wojciech Duranowski, is successfully bringing to fruition. I think that in this new academic year, many of these initiatives will indeed be implemented and thus the next academic year will offer students a rich choice of joint degree programmes. This year, as I have mentioned earlier, we are offering a joint degree in Warsaw and Cambridge.
Finally, could you tell us the fields of study in which prospective students can enrol in degree programmes at Collegium Civitas University?
SM: We offer degrees in several areas: New Media and Journalism; Management and Marketing; International Relations and Diplomacy; Security and Information Analysis; Sociology, Art and Culture; and Psychology and Coaching. Not only do we offer a large variety of disciplines, but also a wide range of specialisations within each discipline. Collegium Civitas has state accreditation to award BAs, MAs and PhDs. We are an academic institution that belongs to the elite group of Conference of Rectors of Polish Academic Schools, with European accreditation from the Polish Accreditation Commission.