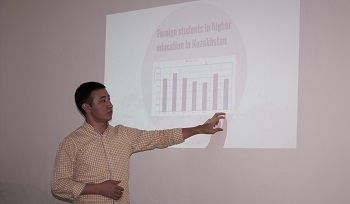 On 1-2 of August Collegium Civitas was visited by 10 representatives of educational institutions from Kazakhstan. The Kazakh colleagues took part in the training programme "The Role of Internationalization in Management of Higher Education Institutions in Kazakhstan" organized by our university.
The training was led by Sławomir Klimkiewicz, PhD – renowned expert in international relations, public diplomacy, conflict management and intercultural communication. The meeting in Warsaw was part of a larger training programme. Before coming to Poland the participants received online materials prepared by Collegium Civitas experts and have been participating in online lessons. Divided into two teams they have been working on their final assignment. The first team prepared an analysis and presentation of the Kazakhstan national branding and its national mark. The second team worked on the role of international elements in management of higher education of Kazakhstan and the prospects of its development.
During the course in Warsaw the participants had a chance to learn more about Collegium Civitas experience in internationalization, with a special focus on Erasmus+ programme as well as about promotion of Higher Education Institutions. The training session gave the opportunity not only to take part in lectures and meetings with experts but also to present the projects to fellow participants as well as to discuss  ideas and collaboration possibilities.
The Kazakh colleagues received training certificates from Collegium Civitas and information packages about Poland from the Polish Tourism Organisation.