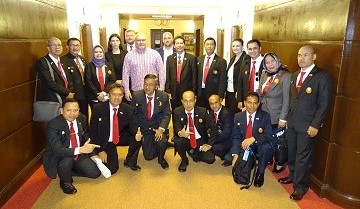 On 8 of August Collegium Civitas was visited by a group of experts from the National Resilience Institute of the Republic of Indonesia. The guests met with experts from the Terrorism Research Center and discussed security challenges facing Poland, Indonesia and today's globalized world.
The National Resilience Institute (NRI) conducts research and trains leaders in public institutions. It is specialized in the field of security and defense. The Institute provides the government with policy recommendations. The Terrorism Research Center (TRC), founded in 2006, is a research unit within Collegium Civitas and one of the leading think-tanks in Poland. The main fields of activity include scientific research, analytical undertakings as well as education and raising awareness about security issues in society.
The event was attended by Mrs. Diyah Ramadani Agustini, First Secretary of the Embassy of the Republic of Indonesia and 12 visitors from NRI. The meeting was chaired by the Director of the Terrorism Research Center Dr. Krzysztof Liedel who delivered the opening remarks. Dr. Katarzyna Maniszewska, Vice-Rector for International Relations and the Scientific Projects Coordinator at TRC presented Collegium Civitas – the international outlook of our university with the special focus on cooperation with Indonesia as well as activities and projects conducted by TRC. Dr. Wojciech Szewko, renowned terrorism expert and scholar, focused in his speech on the terrorism threat in Poland, analyzing the current situation and possible future scenarios.



During the discussion the Polish and Indonesian experts spoke about psychology of terrorism, educational programs and radicalization prevention, counter-terrorism system in Poland and security issues in Indonesia. Cooperation possibilities were also discussed.



The organization of the meeting was facilitated by the Embassy of the Republic of Indonesia in Warsaw. Collegium Civitas has been cooperating with the Indonesian Embassy for the past five years. Our students have the possibility to take Bahasa Indonesia (Indonesian language) classes taught by experts from the Indonesian Embassy and Indonesian academics invited to Poland by the Embassy. In July 2018 Collegium Civitas and Politeknik Negeri Malang signed the Memorandum of Understanding paving the way for cooperation between both universities. With the meeting with the delegates from the National Resilience Institute, our university continues to strengthen the cooperation with Indonesia.