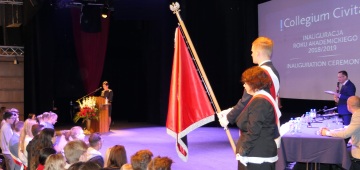 On October 1, 2018 Collegium Civitas (CC) inaugurated the new academic year. The first-year students took the oath, and the best graduates received diplomas with honors. During the inauguration of the academic year 2018/2019 the Rector Prof. Stanisław Mocek presented the achievements of Collegium Civitas and the ambitious plans for the future.
The Rector emphasized the unique character of our university, where every day several generations meet: not only students, lecturers and experts, but also children (Collegium runs various educational programs aimed at the young generation) and seniors (Third Age University at CC).
First-year students took the oath – they did solemnly swear to "thoroughly and persistently acquire knowledge taught by the Faculty of Collegium Civitas". The university flag was passed on to the new members of our academic community.
The congratulatory letter from the Marshal of the Mazowieckie Voivodeship, Adam Struzik, was read by Walentyna Rakiel-Czarnecka, Deputy Director of Stacja Muzeum. The representative of the Students' Union Dominik Owczarek thanked the authorities, faculty and staff of Collegium Civitas for their support, everyday kindness and care. He wished his younger colleagues all the success, and many opportunities to gain inspirations during their studies.
During the ceremony, the best graduates received diplomas with honors and the results of the Contest for Prof. Robert Mroziewicz Prize were announced. The Prize is named in honor of Prof. Robert Mroziewicz (1942-2008) who was an eminent diplomat, historian, democratic opposition activist and professor at Collegium Civitas. The Prize is given annually to the authors of best Master's Theses in the Area of International Relations, Diplomacy, International Security and Digital Security. This year three students were awarded: Wojciech Chabera, Collegium Civitas Przemysław Brzuszczak, University of Warsaw and Paulina Stocka, Adam Mickiewicz University in Poznań.
As a surprise for the guests a short movie on the occasion of the 100th anniversary of Polish independence was presented. In the video the employees and lecturers of Collegium Civitas shared their thoughts about the independence – what does it mean for a country and whether the 100th anniversary is an occasion to celebration or rather to reflect on the Polish history.
The inaugural lecture "100 years! A National Toast or a Giggle of History?" was given by the former Ambassador, former spokesman of the Ministry of Foreign Affairs Prof. Paweł Dobrowolski, Head of the Department of Social, Political and International Studies at Collegium Civitas.
At the end of the official celebrations, the Rector Prof. Stanisław Mocek announced: "I hereby declare the 2018/2019 academic year at Collegium Civitas open!"
The inauguration of the academic year 2018/2019 at Collegium Civitas was attended by representatives of embassies, the academic world, authorities of the City of Warsaw, representatives of scientific and educational institutions, including: the Polish-American Freedom Foundation, the Institute of International Studies, the Science Festival and the College of Economics and Social Sciences of the Warsaw School of Economics.
The ARS CANTATA Choir performed during the inauguration.