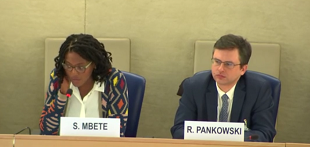 On March 15 the Human Rights Council of the United Nations held a debate on the mitigation and countering of rising nationalist populism and extreme supremacist ideologies. Prof. Rafał Pankowski from Collegium Civitas was one of the speakers.
The Council first observed a minute of silence for victims of attacks on two mosques in Christchurch, New Zealand. In her opening statement, Michelle Bachelet, United Nations High Commissioner for Human Rights, said that racism was contrary to everything the United Nations and the Council stood for, an end to racism, intolerance and xenophobia, and an end to discrimination of every kind. The murderous Islamophobic and terrorist attacks on two mosques in New Zealand were another terrible reminder that racism killed.
Prof. Pankowski, representing 'NEVER AGAIN' Association and Collegium Civitas, said that although racism had been discredited as a doctrine, it persisted as a multifaceted political movement in the twenty-first century. Genocides were committed in the name of hatred, racism and extreme nationalism such as in Cambodia, Rwanda and Yugoslavia and more recently against the Rohingya. Racist movements were increasingly active across the world, as exemplified by this morning's attack on two mosques in New Zealand. These movements found support amongst young people. Popular culture could be an emancipatory force for racial justice, by using independent alternative youth culture to promote the values of respect for diversity.
You can watch the debate here:
More information can be found here:
https://www.ohchr.org/EN/HRBodies/HRC/Pages/NewsDetail.aspx?NewsID=24347&LangID=E