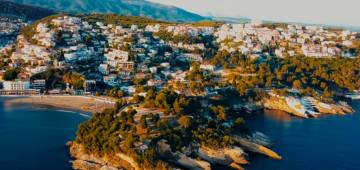 How do you combine field research in 6 countries during your holidays? How does it feel to study other cultures at their sources? The Collegium Civitas (CC) Centre for Cultural Security, the CC Centre for Research on Social Risks, the board of the CC Student Union, the Cross Cultural Awareness Scientific Circle and the El Karama Foundation invite you to participate in the project of joint field research, "Balkanica 2018".
"Bałkanica 2018" is a project organized for several years by Magdalena El Ghamari, PhD, which aims at scientific activity and conducting field research in the Balkans.
During the trip, students will take part in blocks of activities such as "culture as a diplomacy tool" including creating a positive image of the country, combating stereotypes and building a national brand or "Intercultural communication" dedicated to the media, contemporary Arab culture, the role of religion and neutralising the clash of civilizations.
The programme will also include lectures and workshops on the Islamic world: its history, political and religious doctrine and foundations of Islamic law. The participants will also get acquainted with the subject of conflicts and intercultural tensions, the geopolitical situation, and social and cultural issues in the Balkan area. They will equally investigate specific cases and issues related to security issues in Albania and Kosovo.
Plan of the trip:
Sarajevo (night), Mostar (night), Kravice and Jajce – 2 nights in Bosnia
Kotor, Boka Kotorska, Budva, Skadar Lake, Old Bar Ulcijn (accommodation here) – 3 nights in Montenegro
Durres, Golem – 2 nights in Albania
Ohrid, Skopje – 2 nights in Macedonia
Belgrade – 1 night in Serbia
Budapest – 1 night in Hungary.
Proposed date: end of September – beginning of October 2018.
Cost: 500 euros (including: insurance, all transport, accommodation and breakfast. Buffet prepared jointly by the participants of the trip)
The trip will only take place if there is a minimum of 35 participants.
Applications can be sent by 10 June to the following e-mail address: magdalena.elghamari@civitas.edu.pl
In the title of the email, please enter the subject: Bałkanica 2018 and your first and last name.
You are warmly invited to participate in this unique scientific journey!