Head of the Foreign Policy Community of Indonesia Dr Dino Patti Djalal visited Collegium Civitas
20.05.2019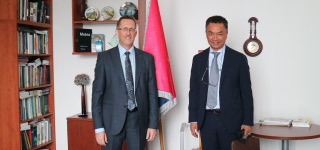 On 16 of May the Head of the FPCI Foreign Policy Community of Indonesia Dr Dino Patti Djalal visited Collegium Civitas. Dr Dino Patti Djalal met with the Rector of our university Prof. Stanisław Mocek and held the key note address during the seminar "The world after Christchurch and Sri Lanka attacks. The view from Indonesia". The seminar was organized in cooperation with the Indonesian Embassy in Warsaw and the Embassy of Poland in Jakarta.
Dr Dino Patti Djalal is the former Vice-Minister for Foreign Affairs of the Republic of Indonesia, the founder of the Foreign Policy Community of Indonesia (http://www.fpcindonesia.org) and former Indonesian Ambassador to the United States. Dr Dino Patti Djalal is an expert with almost 400.000 followers on Twitter (@dinopattidjalal).
The seminar was opened by the President of Collegium Civitas Prof. Jadwiga Koralewicz. The opening remarks were delivered by HE Ambassador of the Republic of Indonesia in Poland Mrs. Siti Nugraha Mauludiah.
In his key note speech Dr Dino Patti Djalal said that one critical historical challenge for world peace in the 21st century which is getting Christians, Muslims and Jews at the grassroots in "countries of concern" to develop positive relationships based on mutual respect. Dr Dino Patti Djalal pointed out that it is not ignorance, but intolerance and bigotry (including inherited bigotry) that cause problems.
In the panel discussion that followed the Guests discussed these issues and agreed that the grassroots work and education can be effective tools in countering radicalization. The participants in the panel included HE Ambassador Siti Nugraha Mauludiah, Dr Sławomir Klimkiewicz, former Polish diplomat and lecturer at Collegium Civitas and Collegium Civitas student Mr. Subhan Yusuf, who is the holder of the scholarship by the Governor of West Nusa Tenggara Province in Indonesia. The moderator was Dr Katarzyna Maniszewska, an expert in security issues at the Terrorism Research Center and Vice-Rector for International Relations at Collegium Civitas.