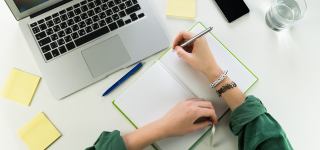 Dear Students, we know that exam session can be very stressful. Please take a look at our advices how to cope with the stress and spend time effectively during the preparation for the exams.
We hope you will find the following tips helpful:
Give yourself enough time to study. Don't leave it for the last minute. Write down the timetable of your exams to set up enough time for preparations.
Take a ten-minute break every hour. While you may think it's best to study for as many hours as possible, this can actually be counterproductive.
Organise your study space to assure that nothing distracts you, incl. turning off Facebook 😉
Drink plenty of water, it is important to stay well hydrated. Go easy on the coffee! Remember, caffeine encourages adrenaline, which increases anxiety.
One of the most effective ways to prepare for exams is to practice taking past versions, also remember to check in the syllabus (all the syllabi are available in Virtual University) what are the assessment criteria for the course.
Aim for plenty of high-quality sleep, especially the day before the exam!
Never cheat during the exam! Cheating, plagiarism is not tolerated at Collegium Civitas and definitely not in line with our values. It is always better to retake the exam than to cheat.
For more tips, you can visit: www.topuniversities.com/student-info/health-and-support/exam-preparation-ten-study-tips
Good luck with the exam session!