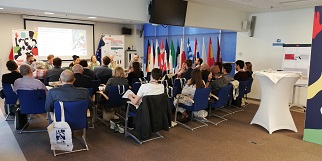 On 17 September the European Commission invited Polish non-governmental organisations to take part in a knowledge-sharing workshop on the European Citizens' Initiative. The event was organized as part of the "Take the Initiative" project. One of the experts and moderators was Dr Roland Zarzycki, the Vice-Rector for Academic Affairs at Collegium Civitas.
During the event a panel discussion about the pan-European participatory democracy was held, followed by hands-on breakout sessions where participants could share practical knowledge and experience  on the European Citizens' Initiative.
Direct democracy has always been viewed as particularly challenging to setup and render successful due to the complexity of proposed mechanisms and the sheer number of us. However, it was highlighted by the panelists that new tools are being introduced, making what seemed impossible until now possible. Amongst these tools is the European Citizens' Initiative, which offers the opportunity for all EU citizens to have a say in the legislative work of the European Union.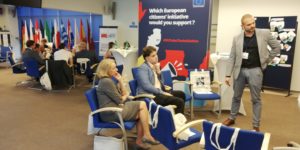 Such tools are necessary and important to all democratic societies, especially – as pointed out by Dr Zarzycki – for relatively recent democracies such as Poland, which are still finding their way to setup best practices in the field of democracy. It is a common pattern that when it comes to legislative action the minority must follow the majority often dissuading the public to take the extra step to get involved more actively. This poses many questions, such as: do participatory democracy tools actually impact the reality around us?
These questions are being addressed by the European Commission. The EC representative, Olga Kurpisz, offered the audience a concise presentation of the European Citizens' Initiative, highlighting some of the best practices from previous successful initiatives, and explaining the procedure by offering a very practical insight.
Darek Kraszewski from the Stefan Batory Foundation spoke about the particularities in Poland and more generally how it is important to meet the people and engage with them to reach true participatory democracy. Marcin Wojtalik, Co-founder and Board member of the Institute of Global Responsibility pointed out that it is necessary to give a voice to all citizens, to take into account all opinions, incl. critical feedback in order to make real progress.
The panelists spoke also about the threats and challenges as well as the role of social media and how it has massively impacted citizens' dialogue. An example listed was that fake news has made reasoned discussions more difficult. It is important that 'the network be regained in order to get the grip back on the narration', explained Rafał Dymek, Director of the Schuman Foundation.
In the second part of the workshop, during the breakout sessions the participants shared practical information and best practices related to the European Citizens' Initiative.
You can find more information about the event here.