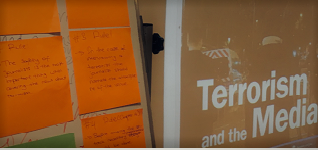 Collegium Civitas students – participants in the course "Terrorism and the Media" prepared the proposal of ethical guidelines for journalists covering terrorism. Take a look at the result of their work. 40 students from different countries (among them: Indonesia, Kazakhstan, Uzbekistan, Vietnam, USA, Ukraine, France, Spain, Germany, Poland, Nigeria, India, Turkey) participated in the seminar and worked on the guidelines.
The seminar "Terrorism and the Media" led by Dr. Katarzyna Maniszewska was designed to deepening the understanding of the role of the media (incl. Internet and social media) in the broad context of terrorism and countering terrorist threats, enhancing writing and analytical skills, with a special focus on critical media literacy. In addition, the students took a look at the history of the media and the development of terrorism and the ethics of journalism.
During the seminar participants analyzed examples of media coverage of terrorist attacks, wrote short op-eds and press articles on terrorism. It was a hands-on seminar and active participation of the students resulted in creating the proposal for ethical guidelines for journalists reporting on terrorism.
Ethical Guidelines for Journalists Reporting on Terrorism
Prepared by: Collegium Civitas students – participants in the course "Terrorism and the Media", winter semester 2019/2020
1. Safety first!
Safety is your first priority. Often in terror incident situations personal security can be seriously compromised. Keep aware of your surroundings and be vigilant of the situation unfolding before you. Do not become a statistic to be reported on. Additionally, understand law enforcement personal may be trying to neutralize the terror threat, so do not impede their actions and create increased danger to yourself and others.
2. Respect the victims
While reporting about victims or interviewing them, the journalist must keep in mind that these people (especially children) may suffer from severe psychological trauma. Therefore, they must be treated with respect, courtesy and compassion. In case of dead victims, we must respect their dignity of death and their loved ones' feelings and refrain from publishing any humiliating materials (e.g. victims' bodies, personal belongings, autopsy reports).
3. Avoid spreading fear
Provide clear, precise, rapid and responsible information but avoid spreading fear.
4. Don't stereotype & generalize. Focus on the facts
The rule highlights the importance of maintaining the journalistic code of ethics and preventing yourself (as a journalist) from using phrases, terms, or concepts that are not factually justified at the moment of the news release. Using stereotypes or generalizations, apart from being potentially incorrect, can cause tension between different societal groups and in extreme cases to lead to stimulation of hate-inspired crimes. Objectivity (operating only with facts) should serve as the foundation for any reports on such a divisive and emotional subject as terrorism.
5. Provide clear information of the incident while not being used as a tool of the terrorists
Journalist should provide transparent information based on its true and strong source(s) and they must double check with the police and law enforcement authorities of the country. Journalist should not be used as the medium of communication between the authorities and terrorist. Journalists should not broadcast any recordings or videos provided by the terrorist(s) and if necessary, they should take advice from law enforcement personal on whether to include or withhold information.
6. Do not expose the tactics of those combating terrorist e.g. security forces
Publicity of law enforcement tactics can damage the anti-terrorist efforts or even in the worst case completely compromise present and future operations. Either a police strategy during an active terrorist situation or a long-term military operation, exposure to the public can cause trouble to security services and pose a serious risk to human life.