'Efficient & Effective Project Management for EU funded Projects' Erasmus+ exchange for staff
13.05.2019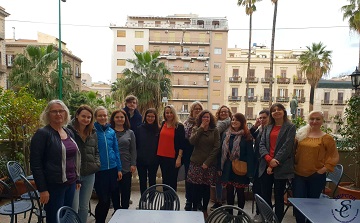 Erasmus+ Programme helps enhance competences not only of students but also staff and faculty members. Thanks to the Erasmus+ mobilities in April our colleague Anita Potrząsaj, Specialist for International Affairs and Promotion and Erasmus+ Coordinator at Collegium Civitas attended the masterclass course 'Efficient & Effective Project Management for EU funded Projects' in Palermo.
This course provides the general knowledge and understanding required to understand key elements of Project Management for EU funded projects for example: dealing with European Commission project reporting, comprehending the obligations for visibility and communication, dissemination of EC funded projects, preparing and dealing with obligations resulting from EC audits, understanding the importance of project monitoring and evaluation, setting up evaluation tools for the project and understanding financial risks related to EC funded projects for their company/institution. Moreover, all participants could share their experience among delegates from institutions from France, Germany, Turkey, Spain, Poland, Denmark, Cyprus and Albania.
"It was a great opportunity to learn and share best practices with European colleagues and meet personally dr. Efstratios Georgoudis, the European Commission expert and evaluator. I am sure that this experience is going to comprehend in depth the importance of efficient and effective management for EU founded projects and impact in my professional development. " – says Anita Potrzasąj.
More information about the Erasmus+ Programme: https://erasmusplus.org.pl/