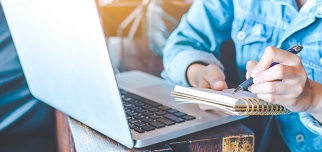 Starting March 26, classes at Collegium Civitas were held exclusively online. We are also fully prepared to offer classroom, online and hybrid education in the new academic year. As one of the first higher education institutions in Poland, we are already leaning toward conducting online classes also in the first semester of the coming year out of concern for the health of our students and employees.
We managed to implement the online education process according to our plan and guidelines within a mere two weeks. "It was a strategic decision. Based on the data available, we considered possible scenarios and decided that the best solution would be to move all classes online. This is why we shut down Collegium Civitas and suspended classes for two weeks to best prepare for the transition. I am pleased to say that the process went smoothly despite the extraordinary circumstances, and although the task was not easy, and we experienced minor difficulties, we successfully completed the entire curriculum for the summer semester while the missing classes from the two-week gap were rescheduled for June," says dr Roland Zarzycki, Vice-Rector for Teaching at Collegium Civitas.
CC online as seen by the students and lecturers
As pointed out by dr Paulina Piasecka, a lecturer in specialisations such as Cybersecurity, Criminology and International Security Studies at Collegium Civitas, "While the 21st century caught us off guard with its many crises, it also became an opportunity to learn something new and come up with new ways of working together. Both we and our students make Collegium Civitas of the 21st century."
Collegium Civitas lecturers sum up the academic year 2019/2020 in a short video: https://youtu.be/cKElsHUnVlo
Our students also proved very understanding, with student organisations actively supporting their fellow students and the Collegium Civitas administration in the digital transformation. A case in point is the Grants Committee, which, in this difficult time, has distributed PLN 180,000 worth of scholarships and financial aid for students experiencing financial hardship. The Career Centre initiated psychological counselling and consulting services for students in need of support or experiencing a difficult professional situation. Support was provided by Collegium Civitas lecturers specialised in psychology and coaching. We also accommodated students' demand for placement programmes, launching industry business simulations for students of Management. The simulations allowed students to test their entrepreneurial and leadership skills online while offering an opportunity to complete a placement as required by the programme curriculum.
Our trademark level of internationalisation was somewhat of a challenge during the COVID-19 pandemic, given the logistics difficulties resulting from the transition to e-learning (network connectivity, different time zones). However, the e-learning implementation process proved successful in this regard as well. This is important as international students currently account for nearly 30% of all Collegium Civitas students, with young people from more than 50 countries studying at our institution.
Collegium Civitas students sum up the academic year 2019/2020 (video): https://youtu.be/6kXrlfXfMxY
We were also very satisfied with the results of the regular Collegium Civitas Course Evaluation Survey (conducted at the end of each semester), which evaluates each of nearly 500 courses conducted at Collegium Civitas this semester. "Despite the transition to online education, the average rating for courses and lecturers remained at last year's very high level of 86% (on a scale from 0% to 100%), which is a clear signal for us that the online format worked, and that students did not feel any difference in the quality of courses," says dr Paweł Maranowski, Vice-Rector for Student Affairs at Collegium Civitas. Nearly all Collegium Civitas students participated in the survey, evaluating all courses that they attended as part of their programme curriculum. Furthermore, 92% of the respondents gave positive ratings (very good and good) to how Collegium Civitas handled the transition to online learning, according to the regular student satisfaction surveys conducted at our institution every year.
Lecturers themselves also reviewed the transition to online education favourably despite difficult circumstances and tight deadlines. "We asked Collegium Civitas lecturers to rate the e-learning implementation process, once again obtaining very good results, with an average rating of 4.63 (on a scale from 1 to 5). The lecturers also appreciated the support they received throughout the process. It should be noted that all courses had dedicated supervisors from the Collegium Civitas administration team, who oversaw technical aspects of the online classes. We also prepared and implemented many group and individual training courses in Polish and English in record time. We also held weekly online E-talks on E-learning, where interested lecturers actively shared experience and good practices," says dr Roland Zarzycki, Vice-Rector for Teaching at Collegium Civitas.
#CConline in numbers
Starting March 26, classes at Collegium Civitas were held exclusively online using a set of tools and IT systems to ensure that online classes run smoothly, proper procedures are in place and the data flow is secure. Classes using one of three tools (Student Online Services, personalised Moodle e-learning platform, Microsoft Teams) were successfully conducted by nearly 300 Collegium Civitas lecturers!
"While pandemic-related restrictions were certainly a challenge, we also saw them as an opportunity to expedite some processes that had already begun at our institution. Our lecturers had long been preparing for e-learning, including under the EU programme 'University 4.0. A Modern Development Programme for Collegium Civitas," says professor Stanisław Mocek, Rector of Collegium Civitas. "As a higher education institution educating future public leaders, we teach our students how to manage risks and see change as an opportunity. This requires us to constantly develop in this regard too," he adds.
A total of 3,386 online classes were held in first- and second-cycle programmes at Collegium Civitas, including 1,348 lectures and 2,038 tutorials in Polish and English, as well as 1,772 foreign language classes in small groups. Postgraduate programme sessions were also moved entirely online for a total of 1,046 classes.
The Bachelor's and Master's thesis defence process also ran smoothly despite the change of format to 100% online examinations using the IT infrastructure. The first two students already defended their theses on April 17, with more than 100 doing the same in the following weeks, in programmes in both Polish and English. This means that over 77% of students who had submitted their degree theses have already successfully defended them.