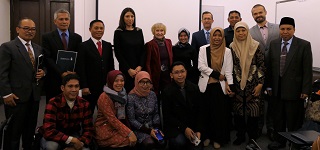 On 4th of December Collegium Civitas hosted a delegation from West Nusa Tenggara province in Indonesia. The continuation of the cooperation was discussed.
Collegium Civitas was visited by a delegation from the West Nusa Tenggara Province in Indonesia – representatives of the Governor's Office, journalists and Rectors and Vice-Rectors of 5 Indonesian universities: Mrs. Baiq Mulianah Abdullah – Rector of University of Nahdhatul Ulama, Mr. Chairun Nasrin – Rector of Health Science School, Mr. Arsyad Abdul Gani – Rector of University of Muhammadiyah, Mr. Ida Bagus Eka Artika – Rector of University of Mahasaraswati and Mr. Khirjan Nahdi Chalidi – Vice Rector of Hamzanwadi University.
The meeting was attended by Collegium Civitas President Prof. Jadwiga Koralewicz, by our Rector Prof. Stanisław Mocek as well as by Dr Katarzyna Maniszewska, Vice-Rector for International Relations and Dr Roland Zarzycki, Vice-Rector for Academic Affairs and – last but definitely not least – by our Indonesian students.
The collaboration between Collegium Civitas and West Tenggara Nusa was launched this academic year – we already welcomed to Collegium Civitas 5 students from Indonesia – they received the Governor's scholarships. During the meeting in Warsaw the leadership of Collegium Civitas discussed with Indonesian colleagues cooperation possibilities and with all 5 universities Letters of Intent were signed.