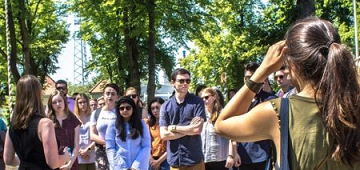 This year for the Summer School program our university hosted over 60 students from the U.S. for six thematic courses devoted to security, criminology, cybersecurity, history and cultural diversity. The course "Crime & Punishment in Central/Eastern Europe" was the first criminology summer school course organized at Collegium Civitas.
"Crime & Punishment in CEE" offered  a combination of lectures and field visits to bridge the gap between theory and practice that enabled students to engage with a number of hotly debated criminological matters. Dr. Anna Matczak, the course lead for the summer school course, is a keen advocate of public criminology that encourages criminologists to shift the implications of theories of crime, punishment and justice for public policy and practice. Therefore, the rationale behind the course was not only to provide students with relevant criminological knowledge, but first and foremost, to inspire them to act as policy makers.
In consequence, for their final assessment, criminology summer school students were asked to write short and concise policy briefs, the subject of which would relate to any criminal justice system of their interest. The briefs are addressed at semi-specialized audience, such as politicians or NGOs, and in the form of evidence-based advocacy documents, they suggest possible policy options or argue for particular courses of action. Furthermore, all students were required to make a short video that would relate to the same topic as their policy briefs. The level of students' engagement with the topics and the quality of their final outputs was very high. Hence, after gaining students' permissions, their work is now publicly available at the university website.
Below is the list of students' briefs:
• Joel Balicki – International Law Enforcement Cooperation Funding
• Hazal Bulut – Legalizing Cannabis in the United States
• Katie Dai – Mass Incarceration: Consequences and Solutions
• Christina Dean – The Death Penalty in the United States: Is the United States behind?
• Elisabeth Foster – Capital Punishment in Texas – an expensive, unjust, and inhumane system
• Casey Guthrie – Restorative Justice
• Mayra J Pares – Police and Policing
• Robert Scherer – Gender and Crime
• Mateusz Sokolowski – Community Policing
• Nicole Wojtkiewicz – Capital Punishment – Eliminating an arbitrary, outdated, and inconsistent form of punishment
We are already looking forward to organizing the second edition of the courses. For more information please visit our summer school website at: www.securityandsociety.org