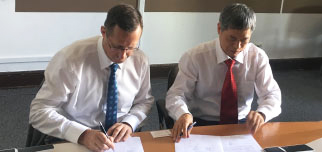 Collegium Civitas signed the Memorandum of Understanding and the Agreement on Undergraduates And Postgraduates Exchange Programme with Xinyang Normal University, China. Prof. Li Jun, President of XNU and Prof. Stanisław Mocek, the Rector of Collegium Civitas signed the agreements on July 1st in Warsaw, during XNU delegation's visit to Poland.
During the meeting at Collegium Civitas the prospective collaboration was discussed. The partner universities agreed to provide exchange opportunities for students and faculty members, work on the development of research collaboration, training programs as well as to launch preparations leading to the Double Master's Degree program.
Xinyang Normal University is located in Xinyang, a famous historic and cultural city in the south of Henan Province. The university covers an area of 100 hectares and its building area is over 600,000m2. It has more than 110 various laboratories as well as more than 150 multi-media classrooms and microteaching classrooms. Its teaching and administrative staff is over 1,500 persons including more than 500 with senior professional and technical posts (more than 140 professors), more than 900 teachers have master and doctoral degrees, among more than 100 senior teachers.
More than 23,000 full-time students in college, undergraduate and postgraduate courses are from 27 provinces, municipalities and autonomous regions in China. After forty years of construction and development, it has 20 schools. It has ten subjects, namely literature, historical science, science, engineering, economics, management, law, education and art. In addition, it has 68 undergraduate programs, 9 first-level disciplines for conferring master degrees, 67 second-level disciplines for conferring master degrees, 7 first-level key disciplines and 3 second-level key disciplines of Henan Province.
Collegium Civitas is one of the leaders in the field of internationalization with a large number of renowned lecturers, students from over 60 countries, numerous research projects and a wide range of studies in English. In the prestigious "Perspektywy" ranking we hold the 3rd position in the category of 'Internationalization' among non-public universities in Poland. With the newly established partnership with Xinyang Normal University, Collegium Civitas continues to further develop its international outlook.