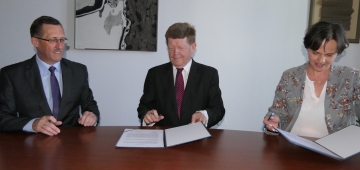 On 7 May, in Warsaw, the Rector of Collegium Civitas (CC) Prof. Stanisław Mocek, the Chancellor of CC Ms Magdalena Wypych and the President of the Spanish-Polish Chamber of Commerce Mr Javier Sosnowski signed a Letter of Intent aimed at enhancing cooperation in the field of education.
Both institutions agreed to work together in order to strengthen educational cooperation between Poland and Spain, including international projects implemented in partnerships between business and academia. The Spanish-Polish Chamber of Commerce (Cámara de Comercio Hispano Polaca) and our university will also cooperate in initiatives aimed at expanding student exchanges, the development of Polish-Spanish learning and teaching projects as well as supporting internship initiatives.
With the newly established partnership Collegium Civitas continues to develop its international outlook and profits from synergies resulting from joint initiatives. In April this year, in cooperation with the Professor Andrzej Dembicz Foundation, The Latin America and Caribbean Research Centre was founded at Collegium Civitas. One of the first projects by the new centre will be the innovative postgraduate diploma programme "Latin America: Business and Culture" – students will be able to participate in a variety of interesting classes, among them lectures held by experts from the Spanish-Polish Chamber of Commerce.