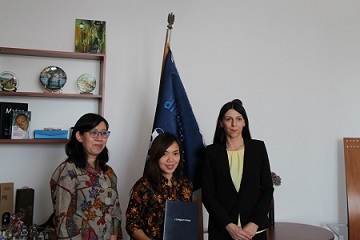 On 5 of July Collegium Civitas and Politeknik Negeri Malang, Indonesia signed the Memorandum of Understanding paving the way for cooperation between both universities. The prospective collaboration was welcomed by the Indonesian Embassy in Warsaw.
Collegium Civitas has been cooperating with the Indonesian Embassy for the past five years. Our students have the possibility to take Bahasa Indonesia (Indonesian language) classes taught by experts from the Indonesian Embassy and Indonesian academics invited to Poland by the Embassy. During the classes the students not only learn the language but also gain knowledge about the Indonesian culture.
"It is a privilege to strengthen the cooperation with our Indonesian partners." – said Dr. Katarzyna Maniszewska, Vice-Rector for International Relations.   "We would be happy to see Indonesian students in Collegium Civitas, the exchange of faculty and joint academic programs. The new educational opportunities can be in particular interesting for our students in International Relations, Asian Studies" – added Dr. Maniszewska.
Politeknik Negeri Malang is a state higher education institution located in Malang, Indonesia. It specializes among other fields in business administration. The Memorandum of Understanding opens the way to explore cooperation possibilities regarding academic projects, exchange of students, faculty and knowledge-sharing.
Collegium Civitas continues to rank high in the national university rankings in Poland. With a large number of renowned lecturers, students from over 50 countries, numerous research projects and a wide range of studies in English, Collegium Civitas is one of the leaders in the field of internationalization. With the enhanced cooperation with Indonesian partners, Collegium Civitas continues to develop its international outlook.
*On the main photo from the left: Mrs. Lira Amalia Sucihati Sudradjat, Second Secretary, Socio-Cultural Affairs, Embassy of The Republic of Indonesia in Warsaw, Prof. Hilda Cahyani, Politeknik Negeri Malang and Dr. Katarzyna Maniszewska, Vice-Rector for International Relations, Collegium Civitas