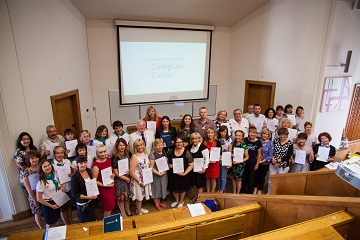 On 10-11 of July Collegium Civitas was visited by 50 representatives of academic institutions from Ukraine. The Ukrainian colleagues took part in the training programme "Internationalization of Higher Education" organized by our university.
The meeting was opened by the Rector of Collegium Civitas, Prof. Stanisław Mocek who welcomed the participants to Warsaw and outlined in his presentation the history of the reforms of the Polish higher education with a special focus on implementation of European standards. This topic was further explored during the presentation by Mrs. Beata Skibińska, the Director for Higher Education Department at the National Agency of the Erasmus+ Programme, the Foundation for the Development of the Education System. Among other speakers were: the Vice-Rector for International Relations Dr. Katarzyna Maniszewska, Vice-Rector for Academic Affairs Dr. Roland Zarzycki, Ms. Anita Potrząsaj, Erasmus+ Coordinator at our university and Ms. Edyta Kostrzewa, Head of the Project Coordination Department at Collegium Civitas.
The training was led by Dr. Sławomir Klimkiewicz, renowned expert in international relations, public diplomacy, conflict management and intercultural communication. The meeting in Warsaw was part of a larger training programme. The participants who received online materials prepared by Collegium Civitas experts have been working for several weeks under the guidance by Dr. Klimkiewicz on internationalization strategies for their own institutions. The training in Warsaw gave the opportunity not only to take part in lectures and meetings with experts but also to present their projects to fellow participants as well as to discuss the ideas and collaboration possibilities.
The training programme was organized by Collegium Civitas in cooperation with the Center for Polish Education in Kiev.