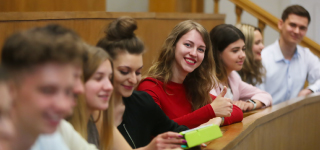 For the last 19 years, the PERSPEKTYWY Ranking has provided the most comprehensive information on evaluation of Polish higher education institutions.
As in the previous years, Collegium Civitas is the leader among non-public universities in conducting studies in the following specializations: sociology and international relations – in both categories CC is ranked 1st!
In the internationalization category, Collegium Civitas maintained its high position – 3rd place among all universities in Poland. Collegium Civitas is one of the leaders in the field of internationalization due to a large number of lecturers from renowned world universities, student exchange programmes, numerous research projects and a wide range of studies in English  which enjoy popularity among Polish and foreign students. Collegium Civitas also runs double degree programmes as part of cooperation with West Virginia University in the United States and Anglia Ruskin University in Cambridge (UK).
In the general overall ranking, CC ranked 7th in the category of non-public universities. The criteria took into account, above all, the prestige of the university, innovation, scientific potential, and the situation of alumni in the labour market.
Compared to the previous year, Collegium Civitas improved its results in nine categories: the economic pathways of graduates, PhD studies qualifications, academic faculty with the highest qualifications, development of own staff, acquisition of funds from EU programs, effectiveness of obtaining external funding for research, study programmess conducted in foreign languages, studying in foreign languages and multiculturalism of the student community.