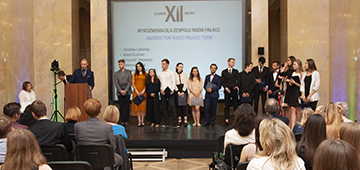 On Thursday, June 7, 2018, the ceremonial ending of the 21st academic year in the history of Collegium Civitas took place. Students, alumni, employees and invited guests gathered in the beautiful interiors of the Palace of Culture and Science to summarize the past year.
During the official part of the ceremony, the speech was made by the Rector, prof. Stanisław Mocek, who thanked everyone for the contribution of the work and wished further successes in the implementation of personal and professional plans.
The awards were given to scientific and didactic employees, appreciated for achievements in scientific and research work in the passing academic year, experts promoting the University in media and the best supervisors of study programs who received special awards funded by Santander Universidades.
In the past year, students of Collegium Civitas showed great activity, they launched "Radio Pałacc" and dedicated website – radiopalacc.pl. The chairperson, founder and principle contributor of Radio Pałacc took a 1,000 PLN check for further development of the radio. All involved students received diplomas.
During the event, awards were also given to talented young artists who took part in a photo competition organized by the 3D-Diplomacy Scientific Circle and students actively working for the academic community.
The official part of the ceremony ended with the performance of the choir Ars Cantata.