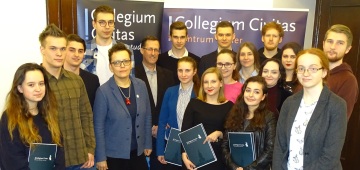 From 15 to 23 March 2018, students from student organizations and scientific circles at Collegium Civitas participated in the Academy of Leaders whose program included a series of training sessions in the field of effective and professional project management. The aim of the project was to raise the competences related to project management, group collaboration, motivation and assertiveness.
The training was conducted by Ms Julita Mucha, one of the best-rated instructors cooperating with the Collegium Civitas Career Centre.
The university authorities make every effort to create the best conditions for the development of students' organizations. The project was created on the initiative of Anna Siwek, PhD, Vice-Rector for Student Affairs and Career Centre.
Opinions of some of the participants are featured below:
– The training conducted by Ms Julita Mucha was extremely interesting and informative. It helped members of all CC student organizations get to know each other and integrate. We learned how to manage the projects and teams well. I think that this is a useful piece of knowledge which is necessary to organize events planned by us at the university (Anna Dombek)
– The Academy of Leaders is an ideal undertaking for students who want to improve skills that are useful for activities in student organizations. Development is the key word, and not only in the case of this project (Dominik Owczarek)
– Training with Julita is a pleasure! She has an interesting approach to students and the atmosphere was wonderful all the time. Not only did I acquire new skills, but I got to know other active students closer. A great experience! (Sofiya Chepil)
We would like to congratulate you and wish you further success and involvement in activities at our University!