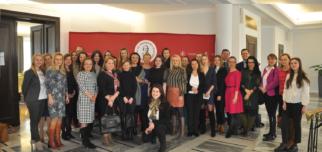 On 20 March 2018 a session took place at the Polish Senate initiating activities of an organization named Women in International Security Poland.
Agnieszka Bukowska, PhD, and Magdalena Elghamari, PhD, from Collegium Civitas became members of this organization.
The event was attended by minister Anna Maria Anders, secretary of state in the chancellery of the prime minister and plenipotentiary of the prime minister for international dialogue, and minister Renata Szczęch, undersecretary of state in the Polish ministry of interior and administration.
Minister Anders emphasized in her speech the role of women in the modern world with reference to her own international experience, this being of vital importance in the development of WIIS Poland thought.
Minister Renata Szczęch also raised an important point, emphasizing the dynamics of women's participation in uniformed services on many levels. She drew attention to the often difficult areas of business activities in which women fulfil their duties in an exemplary manner. The inauguration was also an opportunity to discuss how to support women in public life, as well as an opportunity to talk about further details of programme.
WIIS Poland is a branch of a global organization which aims to support the professional and academic development of women in areas related to international relations and security.