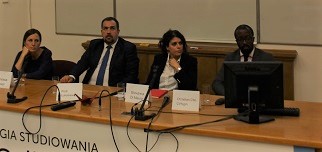 On October 12th, exactly a day after the Nobel Peace Prize was announced and a day before the parliamentary elections in Poland, Collegium Civitas celebrated its very first CC Day of Peace.
The energy was fantastic: we had lively discussions and active networking. We even had a chance to start planning future initiative where students, lecturers, experts and those who care about peace and the future could work together.
Our keynote speaker Christian Cito Cirhigiri, who founded the Peacemaker 360 campaign, talked about the role of youth and arts in peacebuilding based on his experiences from the Democratic Republic of Congo and Columbia.
Later he joined Vanessa Tinker, Giovanna di Mauro and Piotr Łukasiewicz in a panel discussion on building peace in a modern world. Experts were questioned by Elisa Babkina, the president of the Young Peacebuilders' Student Association "Youth for Peace" (the organizer of the event), and Jakob Cronberg, the vice president of the Association.
Katarzyna A. Przybyła, the supervisor of the International Peace and Conflict Studies program at Collegium civitas, gave the welcome speech.
Both in the official speeches and during the unofficial talks among the participants, one statement was repeated: "This is just the beginning". We have no doubt that this is the truth!