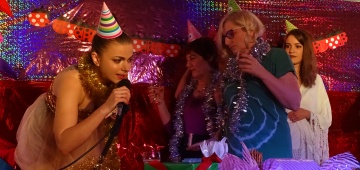 On Friday afternoon the authorities and employees of the university, students and invited guests together celebrated the 20th anniversary of Collegium Civitas by participating in the "Birthday" spectacle. The play was created on the initiative of students and students of UTW forming Collegium Civitas Theater.
The effect of several months of work under the supervision of director Marcin Gaweł surprised almost all spectators. After the introduction to the topic of birthday, accompanied by very interesting stage design …
The birthday is attributed to great, often magical meaning. The annual cycle, the location of the stars, the sun's rotation became the most obvious measure of time, and understanding that the beginning and end of the cycle is the same location of the earth in relation to the same stars gave rise to many beliefs, rites and customs. Over time, the penetration of cultures has made birthdays a social dimension, have been accepted and fit into social and family traditions.
… the party started. Actresses of all ages, but spiritually in one – twenties, coming from different backgrounds and regions, invoked personal stories of their 20th birthday. The great variety of characters and the interesting way of presenting the memories made the show stop beacause of the applause several times.
There was also a birthday cake.
We want to thank the director and author of the project and the screenplay for Marcin Gaweł and actresses: Carmelina Dimmich, Hanna Hanke Stroińska, Zdzisława Żochowska, Alicja Grabka, Anna Krasny, Monka Mydło, Malwina Smagala and Katarzyna Śmierciak.