If you put your interest in social and political science or international relations CC is a place to be!
Collegium Civitas is a modern non-state university located in the heart of Warsaw, the most dynamic capital city of Central and Eastern Europe. Experience and commitment of our founders and faculty members have earned us a reputation of the best place to study international, social and political science in English.
We are entitled to award BA, MA and PhD in a rich variety of programs.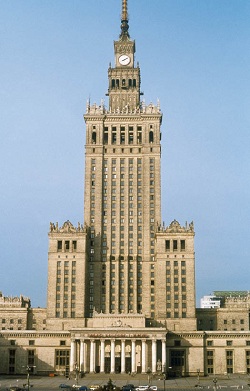 National and international recognition of top quality education!
We have received accreditations from National Accreditation Commission and the University Accreditation Commission at the Conference of Rectors of Polish Universities.
We are an official member of many international associations and organizations, e.g. the International Sociological Association, the International Society of Political Psychology, the International Political Science Association.
Collegium Civitas is in the lead according to the most recent ranking "Perspektywy" 2015 announced on June the 9th 2015:
6th position within non-state Universities in Poland
3rd position in the category of 'Internationalisation' amongst all Polish Higher Education Institutions.
1st place in Journalism and New Media among non-state Universities in Poland.
1st place in International Relations and Political Science among non-state Universities in Poland.
2nd place in Sociology among non-state Universities in Poland and 3rd  place among all Higher Education Institutions in Warsaw.
Collegium Civitas is proud to hold several certificates and awards of quality of education such as:
•    1st position in the ranking of "Wprost" weekly seven times;
•    1st place in Sociology and Political Studies according to "Polityka" weekly;
•    Top places in the rankings of Polish non-state universities of "Perspektywy" and "Rzeczpospolita";
•    Category A in parametric evaluation of the potential of scientific units granted by the Ministry of Science and Higher Education;
•    "Uczelnia Liderów" certificate in the category of "Non-state MA University" at the 5th edition of the National Certification Program of Higher Education Institutions "Uczelnia Liderów" (University of Leaders) 2015;
•    7th place among the non-state universities mostly appreciated by employers according to "Wprost" weekly in 2014.
Unique opportunity for our students!
Students have their gates open for a successful career in many European and international organizations. In Collegium Civitas we encourage our students to benefit from educational and career opportunities available in United Europe and we do our best to provide them with a solid educational background to meet high demands of European job market.
Our students were the only ones in Poland to benefit from the Joint European Degree in Human Rights and Genocide Studies MA Program that was offered by Collegium Civitas with a cooperation with Kingston University, London, University of Siena, Italy and Viadrina European University, Germany. Another unique offer was dual MA Degree Program in East Central European Studies, which was established together with West Virginia University, US and the University of Tartu, Estonia.
Collegium Civitas is focused on teaching excellence!
Collegium Civitas strives to achieve teaching excellence. Our modern approach to higher education is based on:
Internationally renowned lecturers (both practitioners and theorists),
small class sizes, availability of more than 80 elective and obligatory courses,
dual and joint degree programs,
visiting international students,
online registration for courses,
online access to readings materials,
extra-curriculum lectures by visiting speakers,
unique and rewarding internships opportunities.

Prestigious and internationally recognized lecturers

Hardly any university in Europe may boast the fact that as many as four its lecturers were Members of the EU Parliament, as it is the case in Collegium Civitas. Among our instructors there are also former Ambassadors and Charge d'affaires to such countries as the US, Russia, Japan, India, Pakistan, Canada, Egypt, Greece, Cyprus, Hungary, Switzerland, Angola, Ireland, Moldova, Armenia, Belgium, and Israel, the President of the Polish National Television Council, Director of the national Academy of Public Administration, Director of the Nonmilitary Security Department of the National Security Bureau, and two members of the Council of the Institute of National Remembrance. Collegium Civitas gives you a chance to learn from the best!
Excellent career opportunities
The intellectually rigorous nature of our study programs enables students to face the competitive job market with confidence. Our well-traveled and English-speaking graduates are an asset to any public or private sector employer. Also, the BA Programs at Collegium Civitas may be used as a springboard for further studies in the UK, the US, Canada or other English-speaking countries.
Collegium Civitas Career Center does its best to provide students with professional support to help start and develop their careers:
individual consultations with career advisers and counsellors
numerous internships in Poland and abroad
meetings with employers and alumni
interactive recruitment service
We would love to see you among our students!